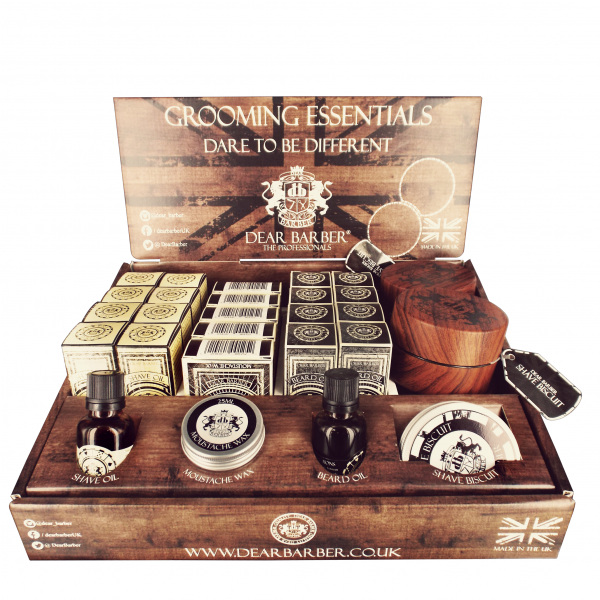 This product is currently not available.
Article N°:

CT-13058

Manufacturer number:

COUNTGROOM1

EAN:

0
Enhance your decoration! Dear Barber Filled Counter Top Display is perfect for any...
more
Product information "DEAR BARBER Filled Counter Top Display - Grooming"
Enhance your decoration!
Dear Barber Filled Counter Top Display is perfect for any individual following a grooming routine or barbershop looking to build a cohesive, inviting environment for their guests. The bottle-lined shelves will help your barbershop stand out from the competition and attract more customers. The storage space behind the display is perfect for keeping excess grooming products or supplies out of sight. This is a great opportunity for barbershops, salons, and therapists to up their game and provide a more upscale experience for their clients.
Shaving cream, beard oils, mustache waxes?
You name it, Dear Barber has it in their grooming counter top display. This brand new countertop display holds 30 x Dear Barber's grooming products.
Dear Barber Filled Counter Top Display – Grooming consists of:
9x Shave Oil 30ml
Up your shaving game and say bye-bye to razor bumps, stubble, and redness. Dear Barber Shave oil is a favorite of barbers and shavers for its unique combination of nourishing oils, including Almond, Grapeseed, and Tea Tree. It has been designed to soften the bristles of regularly shaved hair and leave skin feeling great after a shave.
6x Moustache Wax 25ml
Just when you thought mustache wax couldn't get much better, Dear Barber has taken it to the next level. We've created a strong yet supple wax that delivers superb styling and keeps your mustache in shape all day. Specially formulated to remain workable through the fingers but quickly set on the mustache, for mess-free use wherever you are.
9x Beard Oil 30ml
This light, non-greasy formula will nourish your beard and secure it in place. It also prevents the hair from becoming brittle and breaking. Dear Barber's products are made with high-quality oils that will both hydrate your beard and make it more manageable.
5x Shave Biscuit
Dear Barber Shave Biscuit is a rich foaming shaving soap that gives you a close and silky smooth shave. Our shaving soap will lubricate the skin more effectively than shaving gel or cream, protecting your face while shaving. No need to worry about cuts or nicks, your face will be healthy and ready to take on the day after using Dear Barber Shave Biscuit.
About Dear Barber!
Let's face it, there's a lot of competition out there. You want a clean & well-groomed beard, but which one to choose? Your decision has been simplified because Dear Barber is made in the UK and has a clear conscience. No animal testing. No fake promises about being the best. Just wonderful, high-quality products that will give you that effortless cool you're after. Dear Barber has teamed up with the best barbershops, salons, and retailers around the world. Together, they are committed to providing you with a great experience and great results. The ultimate goal is for you to easily care for your hair and beard at home, just like the professionals would in a salon or barbershop.
Order one now to give away as a gift, or place one at your store for extra profit.
Related links to "DEAR BARBER Filled Counter Top Display - Grooming"