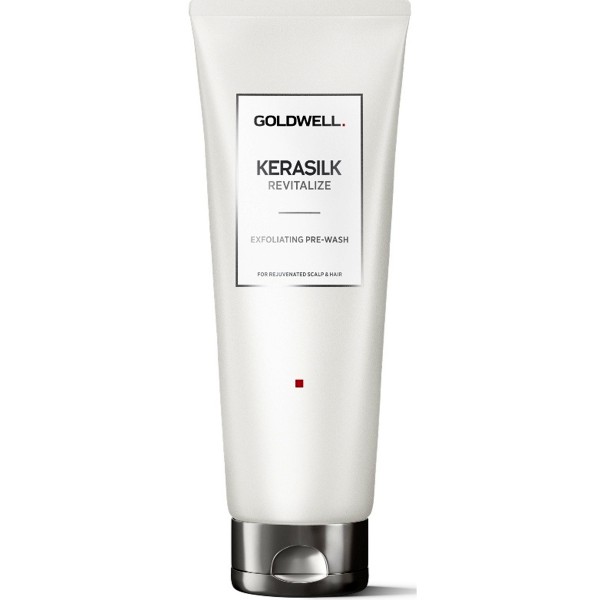 Prices incl. VAT plus shipping costs
Immediately ready for dispatch, delivery the next day
Order within the next
12 hours
so the order is shipped
today
is shipped.
Order number:

CT-11572

Manufacturer number:

265189

EAN:

4021609651895
Order number
Picture
Variant
Price
Delivery
Quantity
CT-11572

Quantity: 250 ml
CHF26.20 *


Immediately ready for dispatch, delivery the next day


In stock: 10

CHF26.20 *


Immediately ready for dispatch, delivery the next day


In stock: 10
Goldwell Kerasilk Revitalize Exfoliating Pre-Wash Hair Mask Goldwell created the...
more
Product information "Goldwell Kerasilk Revitalize Exfoliating Pre-Wash Hair Mask"
Goldwell Kerasilk Revitalize Exfoliating Pre-Wash Hair Mask
Goldwell created the Kerasilk Revitalize Pre-Wash Exfoliation mask to deep cleanse the hair while removing excess oil and dead cells for more revived and silky hair.
With a formula that primarily consists of hydrolyzed keratin, which helps to keep hair in good condition while deeply moisturizing it for shinier, softer hair, and Simmondsia Chinensis (Jojoba) Cross-Polymer Esters, which soften the hair while restoring incredible volume and texture, the hair is unmistakably elegant. Not to mention the PG-propyl methylsilanediol hydrolyzed silk cross-polymer which has the primary goal of preventing the scalp from any adverse effects that could degrade hair quality, while also forming a protective shield to protect hair color.
Goldwell Kerasilk Revitalise Pre-Wash Exfoliation mask is designed to gently cleanse the hair while also cleaning the pores and balancing the scalp.
Benefits of Exfoliation Pre-Wash hair mask:
- Designed primarily to nourish all types of scalps;
- Soothes and relaxes the scalp's sensitive skin;
- Restores hair's softness and hydration;
- Get rid of excess sebum ;
- Exfoliates dead skin cells ;
- Gently but thoroughly cleans hair ;
- Cleans pores;
- Fights aging symptoms.
How to use the Exfoliation Mask before washing?
Apply a little amount of the Goldwell Exfoliation mask to wet hair before washing, and gently massage for 1-2 minutes with the Kerasilk Revitalise brush.
Then wash your hair with Kerasilk Revitalize shampoo, which comes in three different varieties: Nourishing, Detoxifying, and Densifying. Choose the appropriate shampoo for your needs.
Finally, thoroughly rinse your hair.
Ingredients :
Denatured alcohol - Butylene glycol - Cellulose - Cetyl hydroxyethyl cellulose - Citrus aurantifolia fruit extract - Ectoin - Fragrance - Hydrolysed keratin - Hydrolysed silk PG-propyl methylsilanediol cross polymer - Iron oxides (CI 77491, CI 77492, CI 77499, CI 77489) - Simmondsia Chinensis (Jojoba) esters - Menthol - PEG-6 caprylic/capric glycerides - PEG-60 hydrogenated castor oil - Pentylene glycol - Phenoxyethanol - Propylene glycol - Silica - Sodium hydroxide - TEA-Acrylates/C10-30 Alkyl Acrylates Crosspolymer - Tetrasodium EDTA - Water/Water - Zinc PCA.
C-Total tips :
- Use the Kerasilk Revitalize brush applicator to apply the mask;
- Rinse your hair just after you've washed it with shampoo;
- It is critical to look after your scalp.
FAQ :
Q: Should I use the Pre-Wash Exfoliation Mask every day?
A: The Pre-Wash Scrub should be used once every two weeks.
Q: Can I wash my colored hair with the Pre-Wash Scrub Mask?
A: No, as the name implies, the Pre-Wash Exfoliation Mask is a treatment that requires the use of another shampoo. To that end, Goldwell offers three shampoos, each with its own specialty, one of which is the Kerasilk Revitalize Detoxifying Shampoo, which is designed to revitalize the hair while also eliminating dandruff. Kerasilk Revitalize Redensifying Shampoois a volumizing shampoo for mature hair. Kerasilk Revitalize Nourishing Shampoo, which was released recently, helps treat dry, sensitive scalps.
We propose Kerasilk Color Gentle Shampoo from the same line for colored hair, which gently cleanses while providing the shine and nourishment it requires.
Related links to "Goldwell Kerasilk Revitalize Exfoliating Pre-Wash Hair Mask"